COVID-19 Residential Cleaning Services in Dallas, TX
COVID-19 has caused uncertainty and challenges for many, but you can keep your home protected from the virus and germs with residential disinfection services from Paul Davis Restoration of North Dallas. Our expert technicians visit homes around the Carrolton, TX area to sanitize them and limit the extent of bacterial or viral contamination throughout while complying with the highest standards of care to keep you and your family safe. Here, we'll share more information about our residential COVID-19 cleaning services.
Our Disinfection Services – The Paul Davis Way
Your home is a place where your family gathers together, and you want it to remain free of germs and safe to inhabit. The experts at Paul Davis Restoration of North Dallas have been restoring and cleaning up after disasters for many years, and the COVID-19 pandemic is the current problem that our team is tackling, Through the use of innovative cleaning techniques and client education, we help keep you and your home safe and free from germs and bacteria. When our technicians perform residential COVID-19 cleaning services, we follow strict guidelines to disinfect your home to the highest extent possible. These guidelines include:
Utilizing highly effective professional-grade disinfectants that are EPA approved against most common viruses, including COVID-19
Applying our disinfectants carefully and meticulously to meet stringent standards
Using proper equipment that gets rid of harmful bacteria and viruses
Dressing in full protective Tyvek suits, gloves, goggles, and respirators before performing COVID-19 cleaning services
Our company maintains such a strong reputation with our clients because we believe that even after the job is completed, our work is not done. Our experts will stay in contact with you even after we have finished a cleaning service to communicate updated findings and information about keeping your home clean and you healthy. We always aim to answer any questions you have before and after your service with the most updated information. Trust the experts at Paul Davis Restoration of North Dallas to safeguard your home against COVID-19 and provide you with a sense of security.
Our Safety Precautions
At Paul Davis Restoration of North Dallas, we pride ourselves on keeping your family safe and healthy with our services and also by taking extra safety measures to avoid any chance of contamination. These precautions include:
Following Centers for Disease Control and Prevention (CDC) guidelines around COVID-19, including frequent hand washing, hand sanitizing, maintaining social distancing, wearing masks, and disinfecting high-touch surfaces
Consistently monitoring the CDC and World Health Organization (WHO) for updates and information regarding COVID-19 and disinfection practices
IICRC  certifying our technicians to respond to biological hazards, like COVID-19
Evaluating the health of our staff and customers before any service is performed
Read our message to customers regarding COVID-19 and the other safety precautions our team has taken to keep you safe.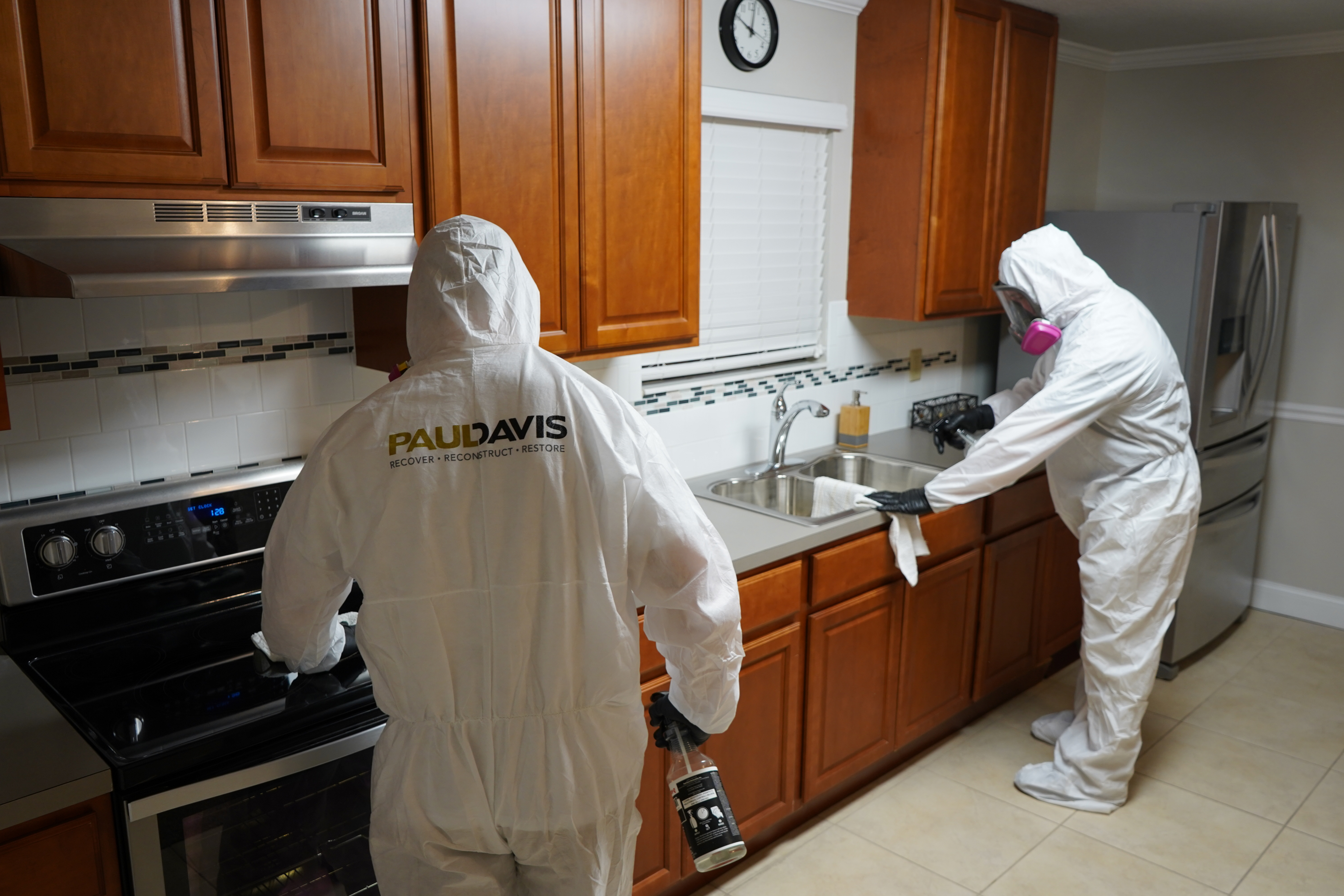 Contact Us Today to Book an Appointment
Ready to get your house disinfected from the dangers and germs of COVID-19? Trust the experts at Paul Davis Restoration of North Dallas. Located in Carrollton, serving North Dallas and surrounding areas, we perform exceptional residential COVID-19 cleaning services in homes. Contact us today to book your appointment or to learn about the other restoration and cleaning services we offer.
Contact Paul Davis Today
Paul Davis is ready to offer residential disinfection services in Dallas, TX. As one of North America's leading restoration service providers, we have the background necessary to combat the spread of viruses and do our part to slow down Coronavirus. Contact Paul Davis now at 469-289-6376 and schedule an appointment with our team members.