Emergency Flood Restoration for Commercial Properties in Dallas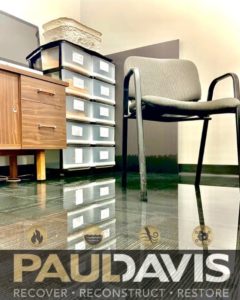 Flooding can be detrimental to commercial businesses as property managers and business owners cannot afford to be under construction for too long. Located in Carrollton, serving North Dallas and the surrounding areas, Paul Davis Restoration of North Dallas provides quick and efficient emergency flood restoration services. Our qualified and experienced staff provide turnkey commercial restoration services to help you get your organization running smoothly again.
About Our Commercial Restoration Services
At Paul Davis Restoration of North Dallas, we understand the impact water damage from a flood has on a business and its people. That is why we act as soon as we receive an emergency call. Our restoration specialists will arrive, quickly evaluate the situation, and begin our process of restoring your business.
With the use of vacuum-pump technology, we will extract all remaining water on the site, making it safe for everyone to enter. We then use state-of-the-art moisture detection equipment to locate all potential areas for harmful bacteria to grow. The interior of your business will then be dried out using air movers and dehumidifiers, focusing on areas where moisture builds up and becomes trapped. After the drying process is complete, we begin cleaning the debris produced from the flood.
Once all existing water is removed and the area is cleaned, we perform restoration services. Paul Davis Restoration of North Dallas is insured and qualified to handle construction services including flooring, electrical, HVAC, and plumbing. Our goal is to restore your property to its original form, allowing you to get back to business as usual.
Why Acting Fast Is Crucial
After a flood, time is of the essence. To reduce the damage caused by a flood, you need to act with haste. Business owners who wait are putting themselves and their businesses at risk. The team at Paul Davis Restoration of North Dallas understands this urgency and is prepared to answer the call. Your business should seek commercial restoration services as soon as possible after a flood for the following reasons:
Health Hazards
One of the main issues with water damage from flooding is the increasing potential for mold growth. The chances of mold developing increase the longer flood water goes unattended. Mold grows on several areas in a building, such as floors, walls, doors, and even ceilings. It can be dangerous to breathe in and causes a variety of health issues, especially for those with chronic conditions such as asthma or other allergies.
Because mold takes only a few hours to grow, it is important to act quickly. Paul Davis Restoration of North Dallas works fast to not only extract standing water but also to remedy wet surfaces and prevent the spread of mold and mildew.
Safety Concerns
Safety also comes into play when talking about timely flood damage restoration, specifically the threat of electrocution. Flood water near outlets and appliances may create unsafe electrical conditions. Should water come in contact with electricity, it will shock anyone who enters the water, potentially causing serious injury or even death.
The trained professionals at Paul Davis Restoration of North Dallas know how to handle these types of scenarios. As soon as we arrive, we will turn off the electrical power to the affected areas and make sure it is safe to begin repairing.
Cost Factor
Responding quickly to flooding is also important when you factor in the potential cost. Attending to the issues brought on by flood water as quickly as possible might mitigate the damage, and ultimately reduce repair costs. Choosing to delay flood restoration services may end up costing you more in the long run and result in your business being under construction for longer.
Additionally, acting quickly allows you to salvage any important belongings that may be vital to your business, such as paperwork, equipment, electronics, and furniture. Without needing to replace these items, you may save money and have more time to focus on other aspects of the business. Paul Davis Restoration of North Dallas will work quickly to save as much of your business as possible.
Trust Paul Davis Restoration of North Dallas
After a flood, you must stay diligent to protect your business, save essential items, and potentially lessen the damage. To help your business return to its original state after a flood, Paul Davis Restoration of North Dallas offers professional commercial restoration services for clients located in North Dallas and the surrounding areas. We work quickly to ease the burden a flood can bring, allowing you to get your business up and running again. Contact us today for more information about our restoration and remodeling services.