Kitchen Remodeling Services In Dallas, TX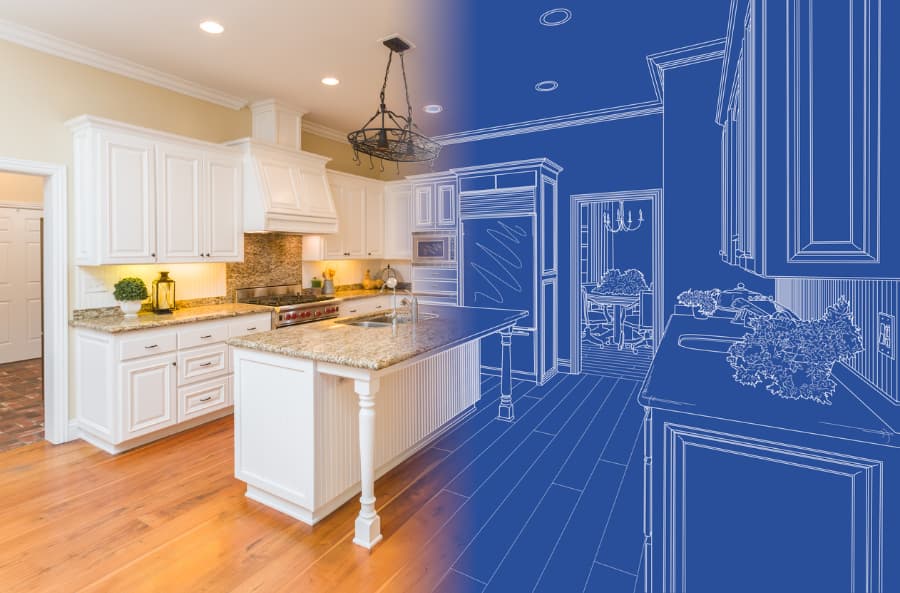 A home's kitchen is the place where families gather together. This room is where the meals shared with loved ones are created and often serves as a place for entertaining guests. It is important that your kitchen functions properly, allowing the rest of your home to do so, as well. Located in Carrollton, and serving North Dallas, and the surrounding areas, Paul Davis Restoration of North Dallas has provided quality kitchen remodeling services for more than 50 years. Learn more about the commitment our team gives to every customer and how we can bring your vision to life.
Advantages of Kitchen Remodeling
Partially upgrading or fully renovating your kitchen in partnership with a professional may be one of the most beneficial home remodeling improvements you make. There are a host of advantages that come with remodeling your kitchen, such as:
Improved function: Many older homes feature underutilized or inefficient kitchens. Remodeling this room is a great opportunity to change the layout in a way that allows you to take full advantage of the space.
Enhanced look: If you are unhappy with the way your kitchen looks or think it needs a more modern overhaul, professional remodeling services make it easy to create the appearance you truly want for your house.
Increased home value: Remodeling your kitchen can help increase the value of your home. Customers who are considering selling their homes in the future could benefit from updating the kitchen beforehand.
Reduced energy costs: During a kitchen remodel, customers can upgrade their appliances with energy-saving models. This can help reduce water usage and electricity output, resulting in lower utility costs and greater environmental benefits.
Elevated appeal: Kitchens often are the focal point of the home, intended to be a communal space. Remodeling allows you to make your kitchen feel like a more inviting room.
Our Areas of Expertise in the Kitchen
Creating the ideal kitchen requires all the elements of the space to work seamlessly together. That takes knowledge and expertise in all the features that go into a home kitchen. At Paul Davis Restoration of North Dallas, we specialize in the following kitchen remodeling areas:
Countertops: A mix of style and function, countertops can enhance the appearance of your kitchen and provide additional room to prepare food. Customers can choose from a variety of countertop materials, such as quartz, granite, laminate, or wood.
Cabinetry: Used to store small appliances, cookware, and other kitchen essentials, cabinets typically take up a majority of space and are a major contributor to your kitchen's aesthetic. With options such as glass doors, raised panels, and frameless cabinets, it's easy for customers to achieve their desired style.
Appliances: Major appliances are central to the space and allow your kitchen to function properly. Our team can replace your outdated refrigerator, oven, or microwave with fresh, updated models that suit your needs best.
Walls: Adding a stylish backsplash helps liven up the overall look of the space. Customers can choose a more contemporary design that blends seamlessly with the décor or add a pop of color that's intended to draw the eye and make a statement.
Sinks: As one of the most commonly used features of your kitchen, the sink is a staple part of any remodel. During the design phase, we assist clients in selecting a sink that fits their style and offers excellent functionality.
Lighting: From pendant lights over the island to recessed lighting across the ceiling, the proper kitchen fixtures highlight the delicious meals you make each day. They also serve as design elements throughout the space.
Remodel Your Kitchen With Paul Davis Restoration of North Dallas
Let us help you create a kitchen that serves your household well. At Paul Davis Restoration of North Dallas, we are committed to customer satisfaction on every home remodeling project. That is why we use the highest quality materials, tools, and techniques for every kitchen remodel. If you are in Carrollton, North Dallas, or the surrounding areas of Texas, and wish to upgrade your kitchen, contact us today for a free consultation.