Biohazard/Trauma Cleanup Services in Dallas, Texas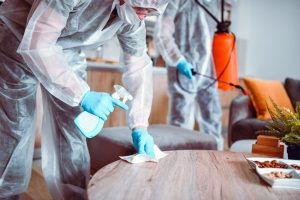 If your home or business has encountered an unfortunate event such as a crime, a biohazard-related incident, or another trauma scenario, partner with a professional to ensure the proper course of action. Based in Carrollton, serving North Dallas and the surrounding areas, Paul Davis Restoration of North Dallas has the experience and training needed to provide comprehensive biohazard remediation and crime scene cleanup services. Learn how we can help you resolve delicate situations with care and precision.
Our Biohazard and Crime Scene Cleanup Services
If a tragic incident has occurred on your property, we can ensure the area is thoroughly cleaned and treated. Our team is prepared to handle many different scenarios with a high level of empathy and expertise, including:
Homicide and suicide treatment
Trauma scene cleanup
 Crime scene sanitation
Unattended remains
Biohazard recovery requires swift, thorough action, and we use the most advanced tools and techniques available. Our team receives certification training through the Paul Davis Trauma/Bio-Recovery program. We also receive training through the National Institute of Decontamination Specialists (NIDS), so you can rest assured that your property is in good hands.
Additional Cleanup Services
Our services extend to other scenarios, as well. When potentially harmful material is present, it's important to proceed with caution. Additional situations we resolve include:
Industrial or home accidents: If your home or business has experienced a potentially dangerous scenario involving hazardous materials, we will assess the situation and take the proper course of action to restore your property to its original state.
Hazardous waste removal: If not treated properly, hazardous waste can be extremely harmful. Our team will handle this for you, helping to keep your family or customers safe.
Forensic investigation chemicals: Potentially harmful chemicals are often used during the crime scene investigation process. Once law enforcement has concluded its assessment, we can begin cleaning your space.
Animal remains or waste: Animals tend to seek shelter in small spaces when they are ready to pass. As part of our service, we can take care of the area for you.
Hoarding: The piles and stacks of belongings left by hoarders can seem overwhelming and it may be difficult to tell if potentially dangerous materials are present. Our team is trained to safely handle spaces with a large volume of items.
Sewage removal: Sewage backups into your property can disrupt business operations or your home life. We will work diligently to get your business and household running smoothly again.
Meth lab removal: Meth labs are home to a variety of harmful substances. If your property has been subjected to these dangerous materials, our trained professionals can take care of the area.
Have Your Property Professionally Cleaned after an Incident
After an incident occurs on your property, it may be difficult to know how you should proceed. Paul Davis Restoration of North Dallas can provide you with exceptional biohazard remediation and crime scene cleanup services. If your home or business located in North Dallas or the surrounding areas needs intensive services, contact us today.
Related Biohazard/Trauma Resources: