Storm Damage Services for Commercial Businesses in Dallas, Texas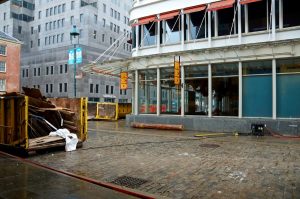 Storm damage preparation can only protect your commercial business so much. When a severe storm hits, the destruction it leaves behind can be extensive. That's why it's important to partner with storm damage remediation professionals. Located in Carrollton, serving North Dallas and surrounding areas, Paul Davis Restoration of North Dallas provides business owners with exceptional storm damage restoration services. Our goal is to restore your business quickly and efficiently.
Our Storm Restoration Services
The weather in Texas can be especially unpredictable with the potential of causing structural or cosmetic damage to your commercial property. Because of this, it is essential to work with a professional restoration company that is dedicated to helping your business return to normal operations. Our storm damage restoration services include:
24/7 emergency services: Severe weather doesn't wait for a time that's convenient for you. That is why our dedicated team is here for you 24/7. If your business is affected by a devastating storm, our responders will be on site ready to begin the restoration process. We're available for calls any time of day.
Storm damage assessment: Once our team arrives, the professionals will start assessing the damage caused. From top to bottom, we will inspect your business for trouble spots caused by wind, water, and other elements.
Structure stabilization: In many cases, the integrity of your structure can be affected in the aftermath of a storm. After a thorough inspection of your property, we will stabilize the weak points in the structure.
Elimination of moisture: The water that builds up during a storm can cause several problems, such as the growth of mold and mildew. If moisture is left untreated, it can create an ideal environment for fungus and bacteria to thrive. Our experts work diligently to ensure your building is dry.
Help rebuild your business: Our restoration process does not just involve cleaning and giving your business a fresh coat of paint. If an area of your business has been destroyed, we will rebuild the structure to its original form.
Property cleanup: Often after a storm, the outside of your business needs just as much attention as the inside. We will pick up any fallen branches and debris around your property to restore its exterior appearance.
Insurance assistance: After your property has suffered a devastating loss, the last thing you want to worry about is dealing with your insurance company. We will work with your coverage provider to ensure your claims are filed correctly.
Restore Your Business after a Storm with Our Team
No matter the type of storm that hits your business, you will want to repair it as soon as possible. Fortunately, working with the storm damage remediation professionals at Paul Davis Restoration of North Dallas can protect your assets and allow you to open again as soon as possible. If your business in North Dallas or the surrounding areas needs professional commercial storm damage restoration services, contact us today.