Fire and Smoke Damage Restoration Services for Commercial Businesses in Dallas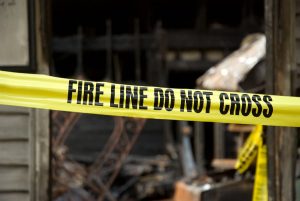 If your business has sustained damage from a fire, it is crucial to partner with fire damage remediation professionals to limit the amount of time you may have to suspend business operations. Proper commercial damage restoration will not only restore the appearance of your business but also remove fumes and soot that can linger for years, as well as provide other benefits. Paul Davis Restoration of North Dallas provides businesses in North Dallas and the surrounding areas with exceptional fire and smoke damage restoration services, with the goal of restoring your business in a timely manner.
Our Fire Restoration Process
In order to get your businesses open again, proper fire damage cleanup and restoration are needed. When you work with Paul Davis Restoration of North Dallas, we ensure no stone goes unturned. Our fire damage process includes:
Arrive on site: We will appear at your business as soon as possible, prepared to begin the recovery process. Our services are available 24/7, ensuring we will arrive within hours after you call.
Assess the severity of the damage: Once we arrive, we will get a better understating of the damage that has been done to give you a more accurate estimate.
Stabilize the structure: If we notice any issues with the structure's integrity, we will work to correct these causes for concern and board up any dangerous areas.
Sanitize: One of the most critical steps in the restoration process is removing the smoke smell and purifying the air. With our advanced cleaning equipment, we will thoroughly clean and sanitize walls, floors, ceilings, and other areas of your property.
Eliminate moisture: The water used to put out the flames can also cause significant damage to your business. Untreated moisture can cause an ideal environment for harmful mold and mildew to grow. Our professional-grade extractors, air movers, and dehumidifiers will remove pools of standing water and dry out any other moisture.
Rebuild: If the damage of the fire has ruined a part of your business, we can rebuild it to its original form.
Why Trust Paul Davis Restoration of North Dallas?
With the potential to wipe out your business, a fire is one of the most destructive disasters that could occur – your building, inventory, and valuable equipment are all in jeopardy. Fortunately, working with the fire and smoke damage remediation professionals at Paul Davis Restoration of North Dallas can protect your assets and allow you to open again as soon as possible. The benefits of our commercial damage restoration services include:
Specialized equipment: Advanced fire restoration requires highly specialized equipment needed to properly clean up in the aftermath, and we have it at Paul Davis Restoration of North Dallas.
Experienced damage assessment: Our experienced team will be able to accurately assess the damage from the fire, including many aspects that might otherwise be overlooked by under-qualified contractors.
Superior training: Our technicians receive in-depth training in the most advanced methods for identifying sources of damage and mitigating losses.
If your business is located in North Dallas or the surrounding areas, has experienced fire or smoke damage, and needs trustworthy and efficient commercial damage restoration services, contact us today.