COVID-19 Cleaning Techniques in Dallas, TX
COVID-19 has caused disruptions in communities around the world, but don't let it affect the safety and cleanliness of your home or business. At Paul Davis Restoration of North Dallas, our team of certified technicians is ready to keep you safe through advanced cleaning practices. Here, we'll share more about the COVID-19 cleaning services and techniques we offer throughout the North Dallas, Texas area.
Cleaning Services and Techniques
Paul Davis Restoration of North Dallas has been a trusted name in the emergency cleanup and restoration industry for years for our innovative techniques and professional expertise. Our expert technicians are certified by our Trauma & Bio-Recovery or the National Institute of Decontamination Specialists (NIDS) to remove illness-causing bacteria and viruses, like COVID-19, found in common spaces. We provide both commercial and residential cleaning and containment services the help eliminate outbreaks of COVID-19 quickly and carefully, ensuring your space is safe during these unprecedented times. We employ advanced sanitizing practices that limit the risk of cross-contamination and help ensure you, your family, and your employees stay safe and healthy. Our cleaning techniques differ from traditional methods and include:

Using Professional-Grade Disinfectants
Our technicians carefully clean and apply professional-grade disinfectants to your space in accordance with highly specific standards. The chemicals and equipment used for our sanitation processes are EPA approved against COVID-19 and most common viruses.
ULV Fogging
This is a precautionary approach is used to apply disinfectants and provide coverage of walls, floors, and other horizontal surfaces. This method offers an excellent preventative measure for several areas.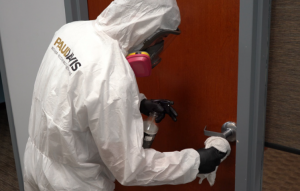 Fogging with Horizontal Surface Wiping
This process includes all the benefits of fogging plus additional coverage for high-touch areas, such as door handles, telephones, and computers. This approach is beneficial for active areas with lots of people, like offices and commercial spaces.
Fogging with Full Wiping
This method involves comprehensive cleaning and disinfectant application practices throughout your facility. These steps taken are industry-approved for when your business or home has experienced a confirmed case of COVID-19.
Why Get Your COVID-19 Cleaning Services From Us?
Paul Davis Restoration of North Dallas is committed to keeping our communities safe and protected from the COVID-19 virus and other harmful bacteria with first-class cleaning techniques and services. Our company prioritizes your safety and best practices for sanitization.
Our technicians are IICRC certified to respond to biological hazards, including the coronavirus, so you can put your trust in their qualifications.
Our expert technicians are fully prepared to perform COVID-19 cleaning services, including wearing full Tyvek suits, gloves, goggles, and respirators. When performing any other service, they wear face masks and shoe covers to avoid bringing any outside contaminants into your property. Our PPE is always removed and disposed of in accordance with state and federal regulations.
We consistently monitor the Centers for Disease Control and Prevention (CDC) and World Health Organization (WHO) for the latest guidance and information regarding COVID-19, so we can provide the best decontamination services possible.
Before beginning any disinfection job, we evaluate the health of our staff members and those living in your home so that nobody is put at risk. Only healthy team members work when everyone at your home is also healthy because we understand the high risk of contamination.
Even after we have completed a job, we stay in contact with our customers to communicate current findings and information about keeping their property clean and preserving their health.
Contact Us Today to Book Your Next Cleaning Service
Keep yourself, your family, and your employees safe and healthy by trusting Paul Davis Restoration of North Dallas to provide your COVID-19 cleaning services. Located in Carrollton, serving North Dallas and surrounding areas, our expert technicians are dedicated to protecting our customers with innovative cleaning techniques, advanced safety precautions, and client education. Contact us today to learn more or to book a cleaning service.