COVID-19 Commercial Cleaning Services in Dallas, TX
The COVID-19 pandemic has disrupted many parts of our world, but it doesn't have to interfere with the safety and cleanliness of your business. Using stringent COVID-19 cleaning services for commercial businesses, the certified technicians at Paul Davis Restoration of North Dallas are ready to keep you safe with our innovative cleaning techniques. Here, we'll share more about the commercial COVID-19 cleaning services we offer throughout the Carrolton, Texas area.
Keeping Your Business Safe
Paul Davis Restoration of North Dallas is part of a large franchise network that provides emergency restoration and cleanup services. We're committed to keeping our communities safe and protected from the COVID-19 virus and other disasters through the use of advanced cleaning techniques and safety precautions. The health and wellbeing of our clients is our top concern, especially during the pandemic, and we take this responsibility very seriously. Our expert technicians practice keeping you safe in several ways, including:
Being IICRC certified to respond to biological hazards, including the COVID-19 virus
Wearing full Tyvek suits, gloves, goggles, respirators, face masks, and shoe covers to avoid any contamination
Asking ahead of time about any special precautions you would like us to take, such as providing digital copies of documents instead of paper
Consistently monitoring the Centers for Disease Control and Prevention (CDC) and World Health Organization (WHO) for the latest updates about COVID-19 in order to provide the best decontamination services possible
Staying in contact with our customers even after a job is finished to communicate current findings and information about keeping their property clean and preserving their health
Read more about the other safety precautions our company has taken during the pandemic.
Our Cleaning Practices
Paul Davis Restoration of North Dallas was founded in 1966, and ever since we have molded our business on the promise to restore property that has been damaged from disasters. We are a trusted name in the property damage restoration industry for our professional expertise and innovative techniques. We only hire extensively trained technicians to provide our services, and they are all certified by the National Institute of Decontamination Specialists (NIDS) or our Trauma & Bio-Recovery program to remove illness-causing viruses and bacteria, like COVID-19, that can be found in commercial spaces.
Our technicians offer commercial cleaning and containment services that limit the spread of disease in your business, ensuring your environment remains safe during these trying times. We use cutting-edge cleaning techniques that go beyond traditional methods to keep you and your employees safe and healthy. These methods include:
ULV Fogging
This is a precautionary cleaning method that applies disinfectants to large spaces and provides coverage of walls, floors, and other horizontal surfaces in your business.
Fogging with Horizontal Surface Wiping
This method has all the advantages of fogging, including additional surface wiping coverage for frequently touched areas, such as door handles, telephones, and computers.
Fogging with Full Wiping
This process is the industry-approved method for when your business has experienced a confirmed case of COVID-19. It is a comprehensive cleaning and application of disinfectants with a full wipe down of all surfaces.
All of our advanced cleaning techniques are suitable for different commercial spaces and circumstances, and our expert technicians will work alongside you to implement the most appropriate cleaning methods.
Contact Paul Davis Restoration of North Dallas in Carrolton, TX
The virus has caused many challenges and setbacks, but the expert technicians at Paul Davis Restoration of North Dallas can help prevent it from affecting the safety of your business. Located in Carrollton, serving North Dallas and surrounding areas, contact us today at 469-289-6376 for more information or to book an appointment.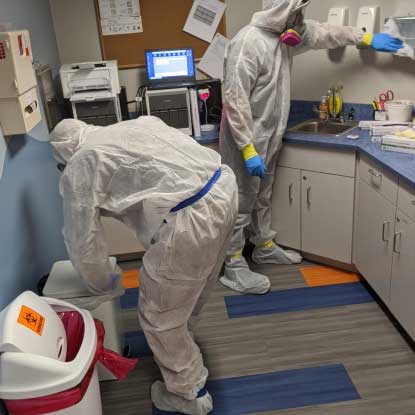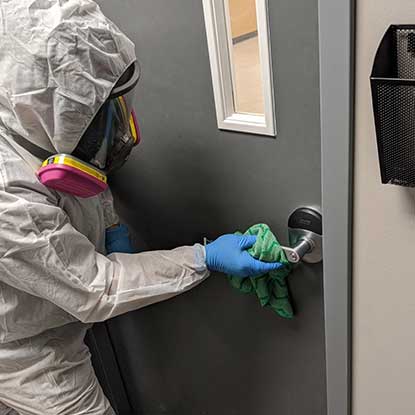 Reach Out to Paul Davis Today
Viruses are a major risk around the globe, but having a decontamination program will help remove the risks in your commercial space. Reach out to Paul Davis now at 469-289-6376 and our expert technicians will help you combat COVID-19 by making your building safe. We are expertly trained for sanitizing buildings and we'll provide you with quality results.