COVID-19 Cleaning Services in Dallas, Texas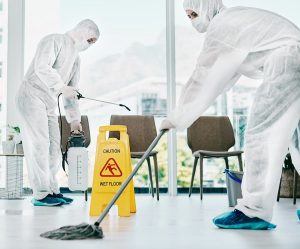 COVID-19 cleaning services are essential to stopping the spread of the virus and keeping businesses running and communities safe. The expert technicians at Paul Davis Restoration of North Dallas are IICRC certified to respond to biological hazards with advanced cleaning techniques and services. Learn more about the ways we can help keep you and your property safe and protected against the threat of COVID-19.
COVID-19 Commercial Cleaning
At Paul Davis Restoration of North Dallas, we understand the importance of keeping your business clean and safe for your employees and customers. We offer commercial disinfecting services with innovative disinfecting techniques to get every job done precisely and efficiently. These services include:
Carefully applying professional-grade disinfectants that are EPA approved against COVID-19 to your property following specific standards
ULV fogging, which is a preventive cleaning method used to apply disinfectants to floors, walls, and other horizontal surfaces
Fogging with horizontal surface wiping, which comes with all the benefits of fogging with added coverage for high-touch surfaces (doorknobs, computers, phones, light switches, etc.)
Fogging with full wiping, which is a comprehensive cleaning process that involves the application of disinfectants to your property with a full surface wipe down
Learn more about our COVID-19 commercial cleaning services.
COVID-19 Residential Cleaning
We help keep your home safe and free of COVID-19 contamination by employing advanced cleaning procedures and providing you with industry information before and after the service is complete. When performing COVID-19 cleaning services in homes, our specialists adhere to strict criteria in order to disinfect to the greatest extent possible while keeping the safety of you and your family in mind. These guidelines include the following:
Only using professional-grade products and equipment that have been approved by the EPA to disinfect against COVID-19 and other common viruses
Meticulously performing our disinfecting processes to meet stringent standards
Wearing Personal Protective Equipment (PPE) during every service, including Tyvek suits, gloves, goggles, and respirators
Learn more about our COVID-19 residential cleaning services.
COVID-19 Containment Services
We have vast experience with all forms of disaster restoration and clean-up at Paul Davis Restoration of North Dallas. For over 50 years, we've served our communities with dependable solutions and industry expertise to keep you safe and healthy during most any crisis. We continue to do so in the current environment by providing COVID-19 containment solutions to our clients. These solutions include:
Plexiglass protective barriers to prevent the direct spread of airborne droplets that may contain viruses and bacteria
Temporary structures to support care and containment of COVID-19
Air control systems to reduce the transmission of contaminated air that can infect individuals
Disinfection services for both residential and commercial spaces with professional-grade disinfectants
SAM 400 Air Treatment to provide whole room air disinfection at levels of up to 400 cubic feet per minute
Learn more about our COVID-19 containment services.
Book Your COVID-19 Cleaning Service with Us
Protect your property, employees, and family from the dangers of the COVID-19 virus with professional cleaning and containment services from Paul Davis Restoration of North Dallas. Located in Carrollton, serving North Dallas and surrounding areas, we have been in the property restoration and clean-up industry for more than 50 years, and we always aim to provide our clients with the most innovative techniques and attentive service possible. Contact us today to book an appointment.